Nature Trail of Hortobágyi-halastó (Hortobágy Great Fishponds)
Nature Trail of Hortobágyi-halastó (Hortobágy Great Fishponds)
Location and accessibility:

By car: turn to north on mainroad 33 at 67 kilometer mark. There is a side road towards Halastó, approximately 2 kilometres to Halászbárka Information Centre.

Starting point GPS: 47.605342, 21.069350

By train: via the Debrecen-Füzesabony line at station Hortobágy-Halastó. The Halászbárka Information Centre is approximately 200 metres to the west from the station.

Entrance
The nature trail can be reached through the Halászbárka Information Centre building and the stands are on the right and left side of the main dyke.
Sights & Facilities:

The short trip is 3.6 km from the starting point to station Konrad Lorenz (and back)
The medium trip is 5.4 km from the starting point to the Pygmy cormorant watching tower (and back)
The full trip is 10 km from the starting point to station Festetics Antal (and back)
There are no difficult parts, anyone can walk along conveniently.
The complete area of Hortobágy Great Fishponds has belonged to the territory of Hortobágy National Park since its foundation in 1973. Furthermore, the pond system is listed in several international conventions: it is a Ramsar site (a wetland of international importance), an Important Bird Area, part of the World Heritage Site and a Natura 2000 area (a natural reserve of European importance).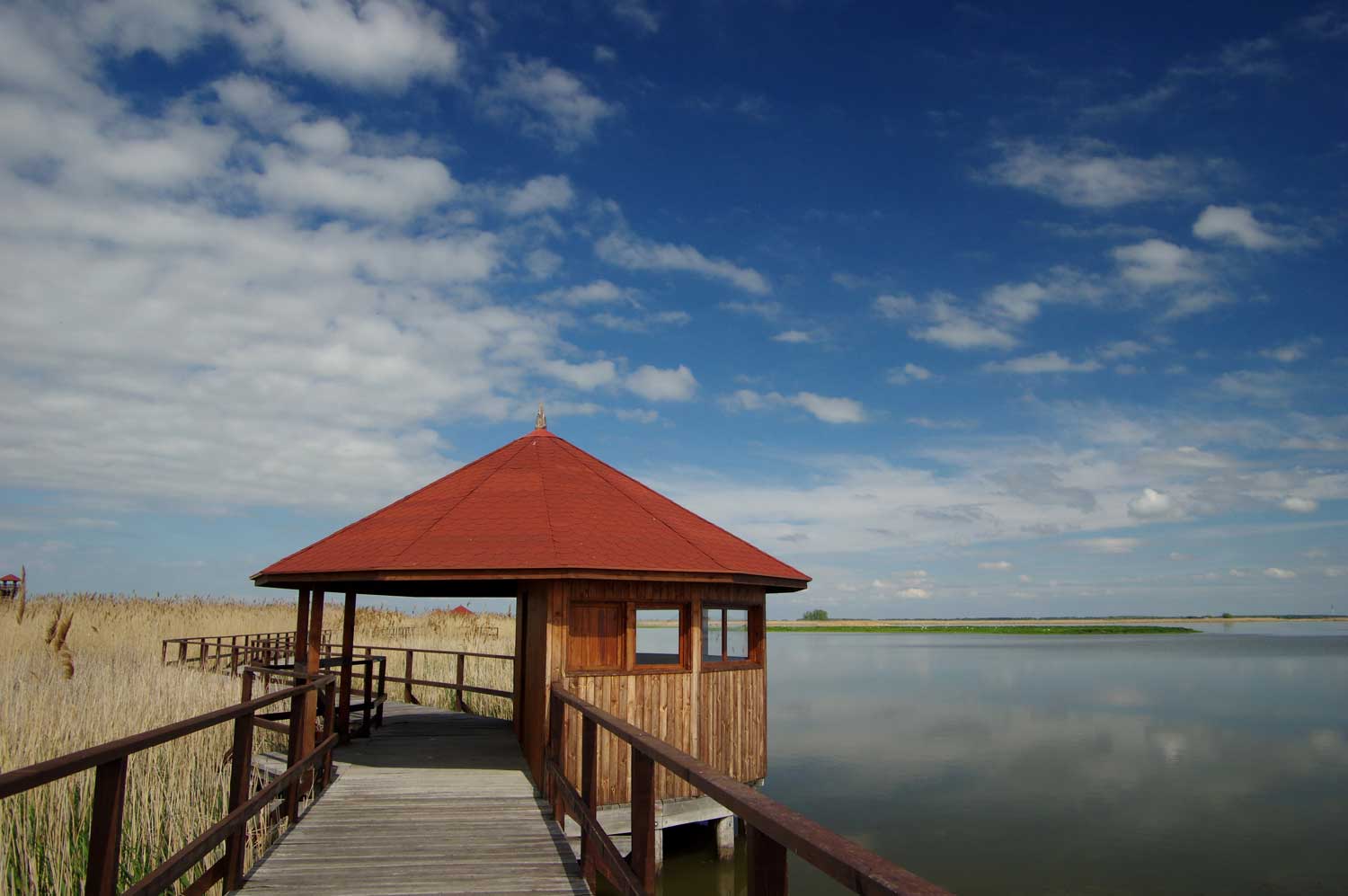 A hide on the boardwalk at Kondás pond
Walking along the fishponds, nature trail visitors can discover the flora and the birdlife of fishponds and open marshlands of the Hortobágy. Considering that this area is one of the most important waterfowl habitat in the Hortobágy and in Central Europe, visitors can have a thourough impression about breeding and migrating waterbirds of the Charpathian Basin, including several endangered species. Beside broadening their knowledge on bird species, visitors can also gain insight into the fish farming activities and methods of conservation habitat management.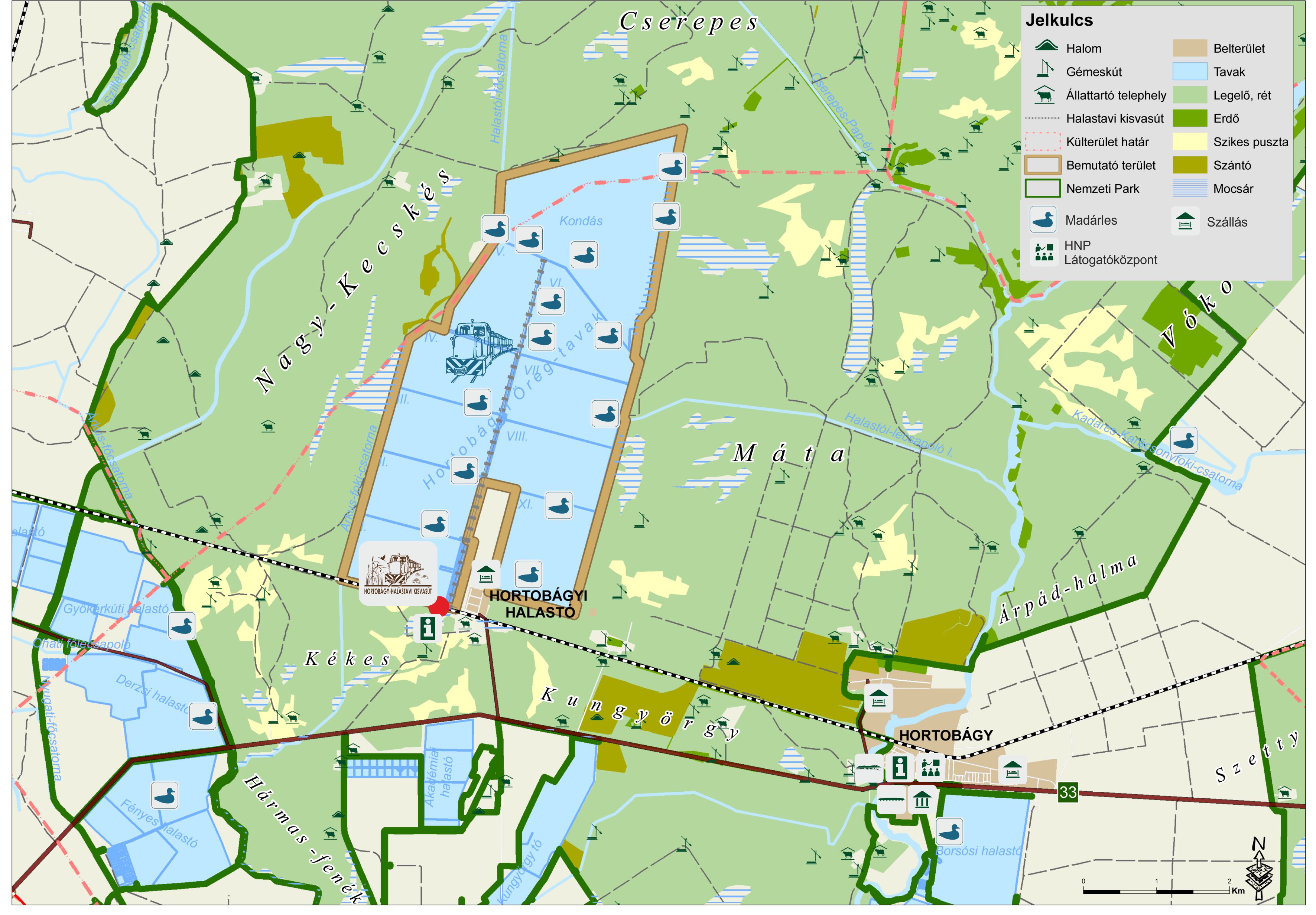 Rules and useful advice for visiting the nature trails:
Visiting Rules apply to all areas maintained by the Hortobágy National Park Directorate.
The nature trail can be visited in possession of a valid entrance card, which costs 2300 HUF/day for adults and 1500 HUF/day for children and retired. The entrance card is available in the Tourinform Hortobágy office in the building of Hortobágyi Csárda in Hortobágy village, and also in the Halászbárka Information Centre in Hortobágy-halastó. A reduced fee for groups can be requested.
You can visit the trail on your own on foot or by bike.The using of the road depends on the weather.
Please dress according to the weather conditions. In the summer, temperatures can reach 40°C (104 °F), therefore please take enough drinking water with you.
Toilets are not available along the trail.
Please keep quiet, don't disturb the natural tranquility of the area. Please don't collect anything on the trail. Please take your litter back to the trash cans at the starting point.