Saving cranes in Hortobágy
On 11th November morning Hortobágy National Park's Ranger Service was called regarding 3 cranes (Grus grus), who were captured in a fire cistern of a stock-breeding farm near Újszentmargita. The cranes were not able to fly out from the 30 m long and 30 m wide pool, where the water depth was 80 cm.
The rangers as arrived on the spot found out that the cranes could not fly out because the pool-bed was covered with thick plastic foil, extremely slippery therefore no chance to walk out on it, while the high water level hindered the birds to take a running fly up.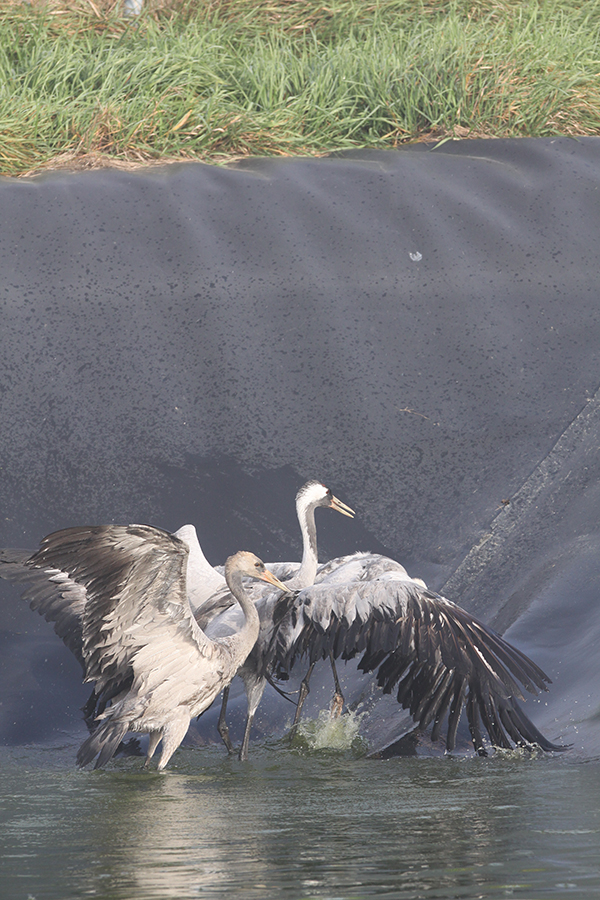 Birds could not come out on the slippery plastic surface.
It was possible to approach the cranes only in special fisher's clothes, which was even more complicated due to the very slippery algae-covered bottom of the pool. Moreover the cranes were frightened of the helpers and started to swim and run away, so their rescue succeeded with difficulties.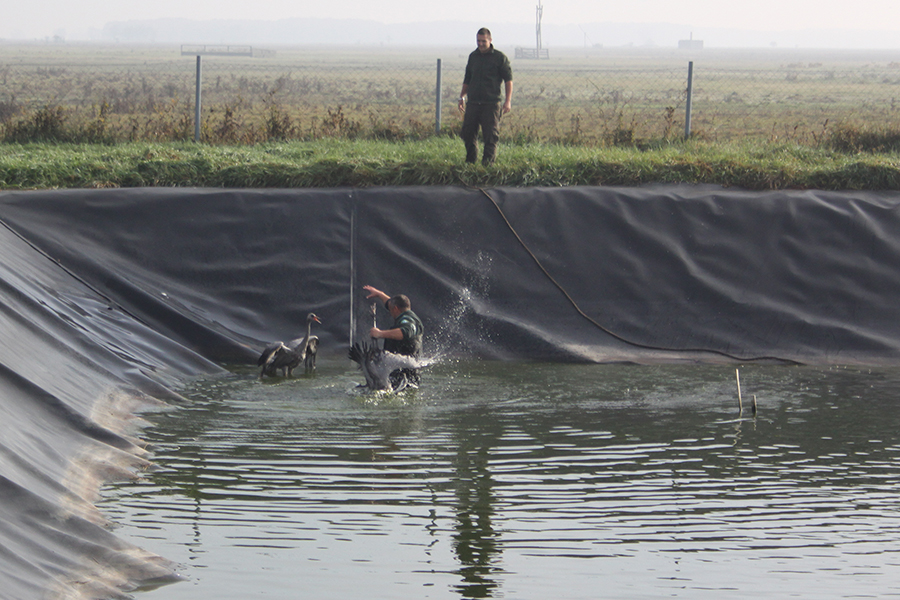 Catching the crane in the pool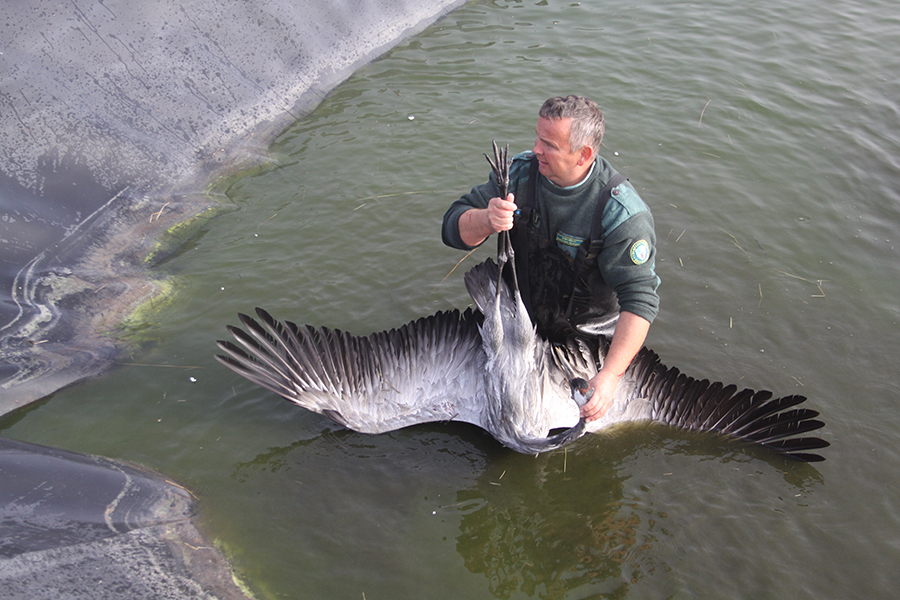 The birds were to be caught one by one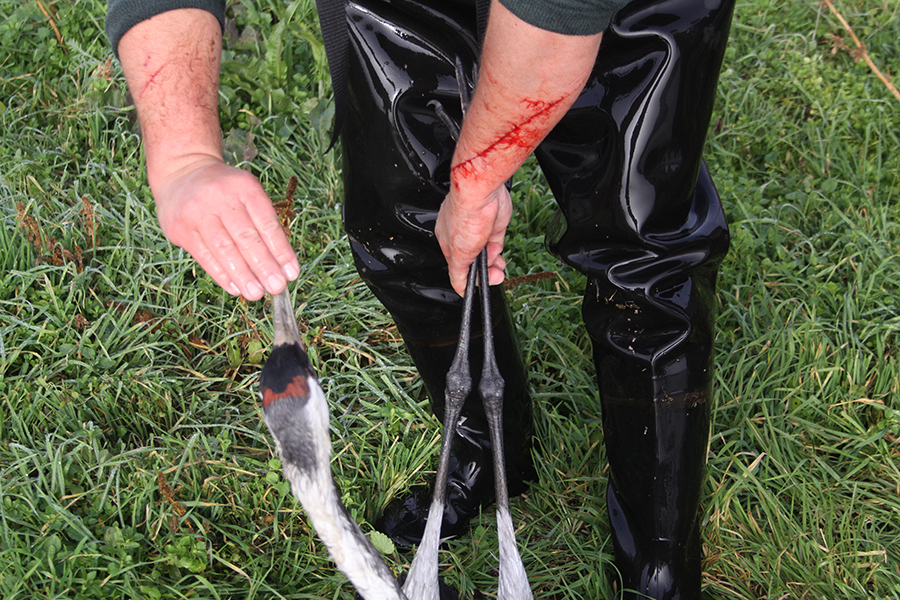 The beak and claws of the crane are not harmless.
The two adults and one young crane before their release.
We examined the rescued birds. We could not find any injuries on their body and feathers, therefore it was possible to release them. Before we let them go, the birds were marked with ornithological ring, which will provide us information about their migration routes in case any subsequent occurence would be reported.
Right after their release the cranes run far away, then after pluming and drying themselves they flew up to join other foraging cranes on a nearby meadow.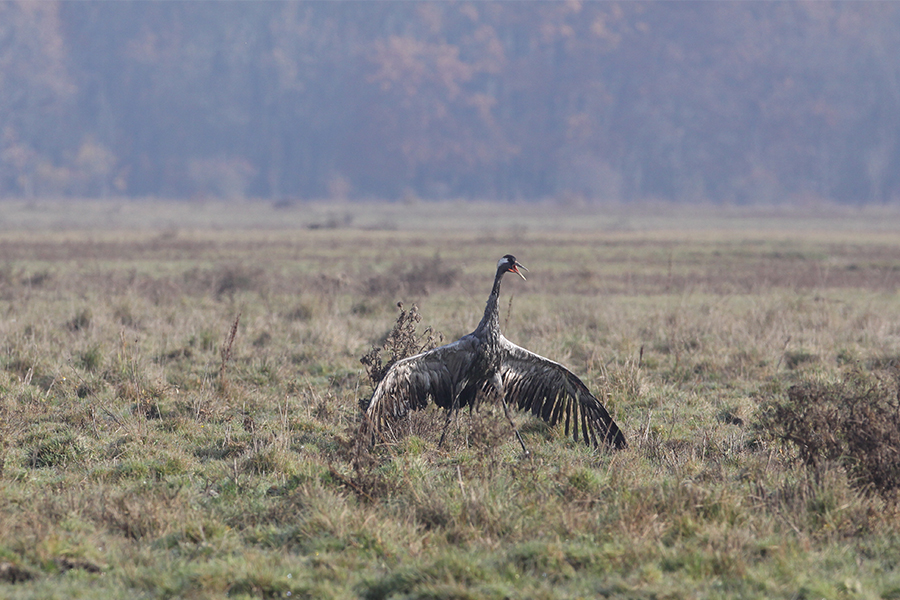 Right after their release the cranes started to dry their feathers.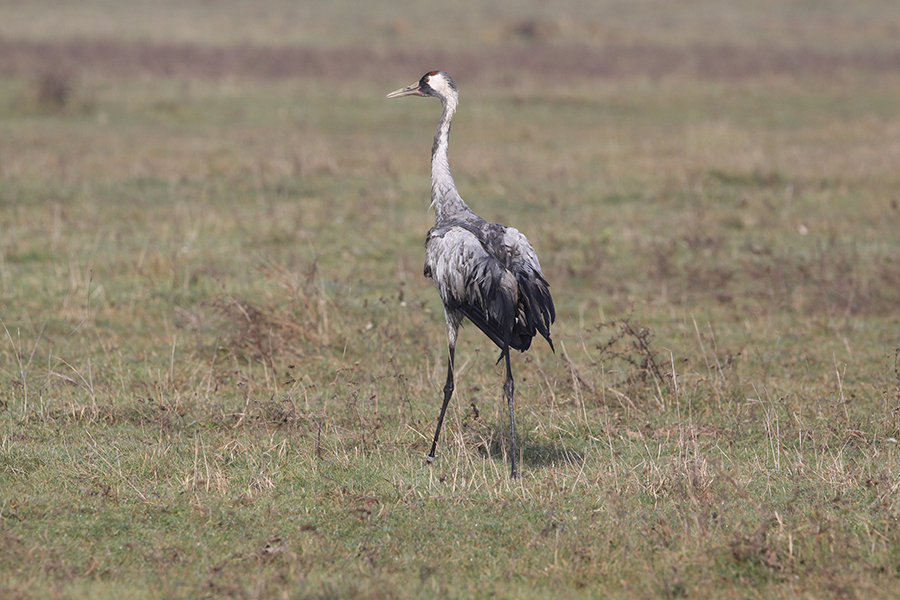 The adult bird's feathers almost completely dried.
Two of the three birds were adults, the third one was this year's chick, so probably they were a strongly bound family, which lost its way in the overnight thick fog and landed on this small waterpool by mistake while they were aiming at the roosting place at nearby Hortobágy Fishponds.
Cranes are protected animals in Hungary, its conservational value is 50.000 HUF. During the autumn migration period of the European population the most important gathering place is Hortobágy, where more than hundred thousand cranes stay in October and a few ten thousands can be seen still in November.
Katona József - Tar János
National Park Ranger Service