Canadian Ambassador in the Hortobágy
Canadian Ambassador to Hungary, Slovenia and Bosnia and Herzegovina, Ms. Isabelle Poupart, recently paid an official visit to the Hortobágy National Park. The programme included a narrow-gauge train trip at the Hortobágy Fishponds, and a carriage ride in the Puszta, thus the two most typical aspects of the Hortobágy were presented, i.e. wetlands and related birdlife, as well as the steppe grasslands with local breeds of livestock tended by herdsmen. The programme would not have been complete without a traditional lunch in the Nagycsárda [roadside inn], as this listed building has welcomed travellers since it was built in the late 17th century.
Dr. Zita Kovács, Director of the Hortobágy National Park administration presented Ambassador Poupart with products from local artisans, including an embroidered pillow with a pattern used on the herdsmen's cifraszűr [a richly decorated coat type], handmade by Mrs. S. Szilágyi.
Ambassador Poupart and representatives of the National Park discussed nature conservation and issues relating to the protection of World Heritage sites as well as topics for potential cooperation between nature conservation professionals of the two countries.
Taking advantage of a school break, Ambassador Poupart was accompanied by her husband and their six-year old daughter who is an avid animal and nature lover. We have reasons to believe that this will not be their last visit to Hortobágy…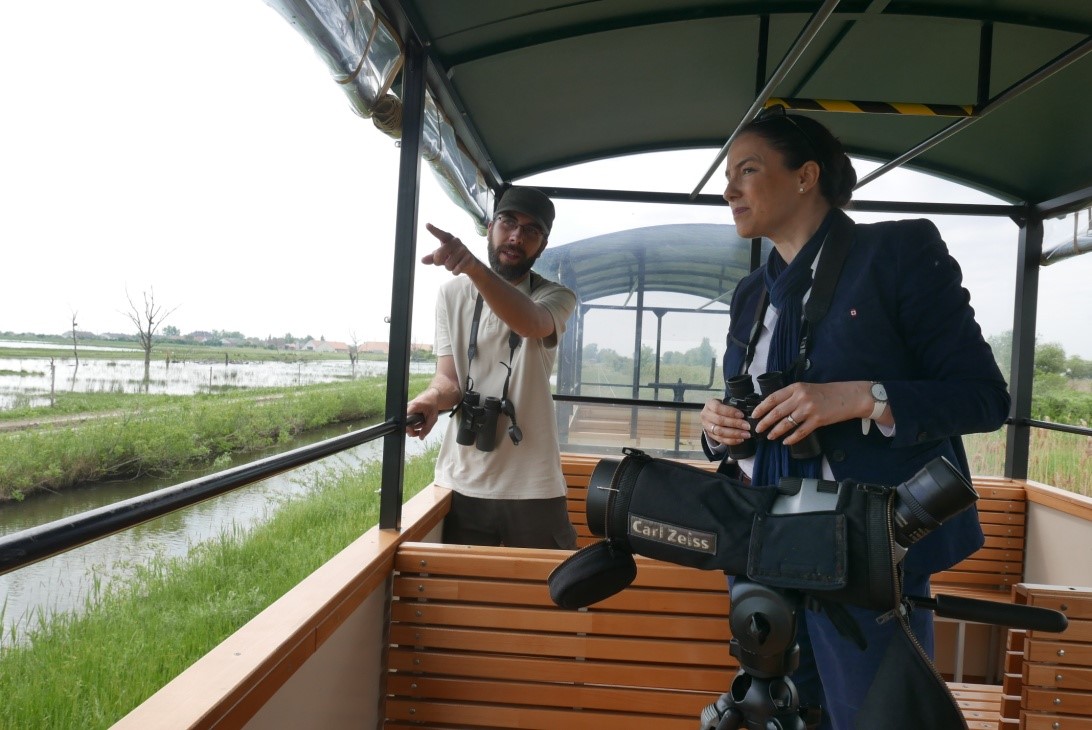 Both wildlife and former, as well as on-going habitat reconstruction projects were discussed
(Photo: R. Bettzuege)
A spectacular feature of the carriage programme was the show by the Hortobágy horsemen
Zsuzsa Tolnay
World Heritage coordinator